Record-breaking turnout at DSA2023
DSA2023 was the first in-person conference since 2019 and the record number of delegates attending signalled it was a conference much needed. 466 people from 70 countries attended in person at the University of Reading. For 2023, the DSA decided to also continue offering the online conference option that it adopted during COVID, and as a result, a further 265 delegates joined online. Conference organisation team, NomadIT, supported systems and volunteers to ensure that the online and offline experience interacted equally.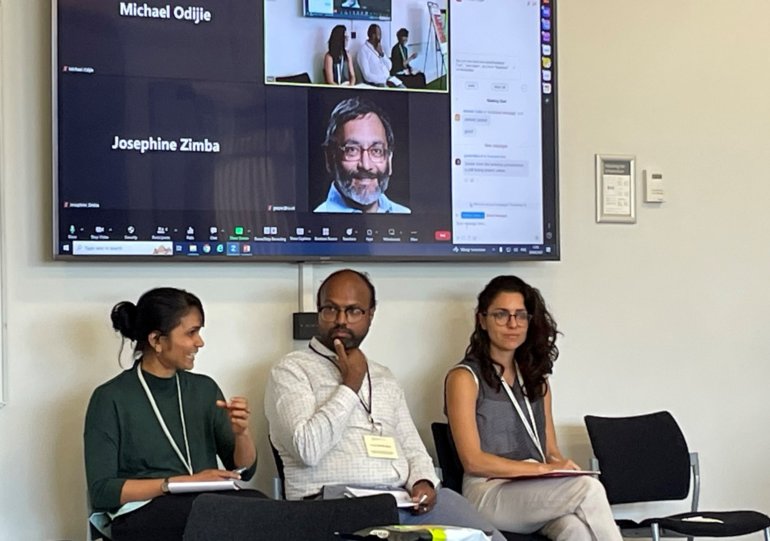 Funding from the DSA and The University of Reading enabled more than 20 delegates to attend from the global South, in addition to a number of global South participants independently bringing critical and diverse voices to every panel. Rakiya Mamman from National Open University Nigeria explained why this is important.
Delegates came from northerly Finland, Brasil and Australia in the south, from Sierra Leone, China and countries in between. The face-to-face element of the conference was important to attendees. Andy Sumner from King's College London and President of EADI, said that while the panels could take place online, the interaction and networking between the panels was irreplaceable. Pietari Keskinen from Finland, said it was important to attend a face-to-face conference after researchers had been isolated for so long. 
By the end of the conference, delegates were clear that the conference had been beneficial, for their personal development as well as having their research and publication strategies. Nenpomingyi Adelabu from Jos University in Nigeria explains how her research ideas have already developed through presenting at paper at the conference.
Early career researchers made up a good portion of delegates and specific sessions developed writing skills and publishing knowledge for books and journals as well as masterclasses for phD candidates. Maria Carmen Fernandez from the University of Cambridge explains.
As an in-person conference it was a great opportunity for the University of Reading to showcase its campus, their commitment to the theme and that its research was achieving well in the UK's evaluation system, the REF. We'll post a video on the impact the event had on Reading shortly.