Meet the Council: Touseef Mir
Touseef Mir is a new member of the DSA Council, who joined following appointment at the DSA's AGM in June 2023. Being a DSA Council member is just one of the many hats that Touseef wears – he's an Assistant Professor in the Department of Social and Policy Sciences at the University of Bath as well as a Research Affiliate in the Food Systems Planning and Healthy Communities Lab, at the State University of New York at Buffalo (SUNY-UB).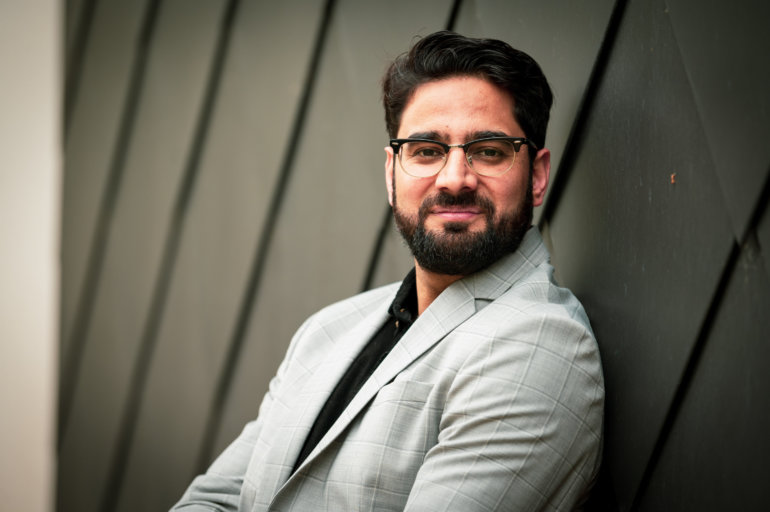 Touseef is also a public engagement advocate working to integrate academic scholarship and practice as a development intervention, including being the founder of an online education and awareness platform for Kashmir called Pe'nd Online. This online platform has been running live weekly panel discussions on social media since April 2020 on issues of significance to the Kashmiris and now has around 50,000 followers.
The drive behind Touseef's many hats is his strong sense of identity: "In my current state I think of myself as a political ethnographer and Public Engagement & Decolonial Praxis Advocate," he explains. "The development universe is wide and broad and in some ways that is good because you can go to any area that interests you. But finding your niche is quite important. It may take time to realise where your interests, passion and curiosity belong. For me it was towards the middle of my PhD that I started being able to locate myself within development studies."
It was at this time that Touseef's association with the DSA started: "I joined the DSA in my PhD days," he says. "I was introduced through a conference where I was a volunteering. I saw the ambition and engagement of the DSA, and this tempted me to step-in. I felt that this was a space where I would love to engage, connect and evolve."
He said the DSA is an important institution for PhD researchers. "It connects you to a universe of like-minded scholars and peers. It brings to you a host of relevant debates, engagement, dialogues, and platforms for webinars. The scholarly engagement and the conferences you can attend keep you enriched, the prizes you can enter, the scholarships and networking opportunities are treasures for PhD scholars working on their further journey."
"The DSA is a one stop-shop for development issues, so you know where the field is going in terms of critical engagement. And that's useful for a PGR who has less time on hand and can't always toil to follow the debates on development or follow all the journals on this issue on top of your research. The DSA is part of these important development discussions and bring them to you."
Touseef says joining the Council was the natural next step, having been a PGR member. "This is a platform that has enriched me, with regards to updating my knowledge, perspectives and information. It seemed like the right time, now I am a member of the academic community to contribute more as an academic, in the study groups or in the basic governance council and offer my engagement and thoughts on development especially in relation to race, decolonization as well as my niche areas i.e. the intersection conflict, governance and politics. I live and breathe to do this and what better platform than the DSA council to see the traction our work can get."
The DSA are delighted that Touseef will be a big part of the DSA's race audit: "This is something I hold close to my heart. When I had meeting with Uma Kambhampati [President] about what side of governance I would like to jump into it was clear. From my PhD I was always championing, decolonization, race, gender, diversity, and BAME issues within the University."
He says that now he is an academic he can contribute to informing what needs to change, especially in terms of the multiple power hierarchies and rigid structures that favour some and discriminate others. Touseef will be a keen advocate of qualitative input into the DSA's Race audit. "We need to incorporate personal kinds of narratives and stories so that the organisations and unions know where the discrimination is and on top of that individuals can relate more closely to the outputs. People need to know what it's like to live on precarious contracts, how people experience things and how some things might be felt but not seen." He feels that this approach can help deal with the multi-layered issues around policy seeking to resolve this if recommendations are triangulated with experiences of academics at all levels who have lived with the problems. "We can't just talk about the problem, we also need to explore the personal aspects and I think this is an important perspective I shall be keen to bring to the DSA's work on this.