Decolonising history through storytelling and animation
In Pakistan, citizens' primary interaction with history is through textbooks and curriculum that are demonstrably selective and biased. There is a dire need for publicly available alternative sources of history, which engage in difficult conversations about the past in a critical and constructive manner. Hashiya is an attempt to fill that gap by providing well researched, peer-reviewed historical research presented in an easily accessible way through engaging storytelling.
IDD Birmingham researcher, Sameen Ali organised a series of events centred around the work of the Education, Justice, and Memory (EdJAM) Network's Pakistan partners, Shehri Pakistan, and their sister organisations, Puffball Studios and Engage Pakistan. The project, Hashiya, focuses on decolonising history through storytelling and animation. It produced a range of outputs, including animated shorts, which confront and illuminate violent pasts to initiate critical conversations around contentious ideas and events. The short films – conceived, researched, scripted, animated, scored, and produced in Pakistan – cover a range of time periods and events, from colonial practices in the subcontinent to the Pakistani state's policies and actions in the present day.
Led by Arafat Mazhar and Rana Saadullah Khan, the series began with a screening of the shorts and a workshop on creative storytelling in Birmingham (15th and 16th September). Two more screenings were held in Bristol (18th September, with the support of the EdJAM team) and at the University of Exeter's Penryn campus (20th September, with the support of the University of Exeter's South Asia Centre). The series was made possible through a AHRC IAA Follow on Fund award at the University of Birmingham.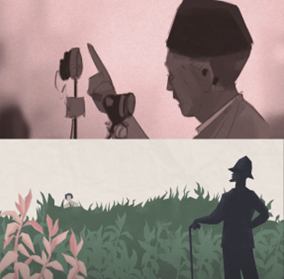 Stills from animated shorts by Shehri Pakistan, Puffball Studios, and Engage Pakistan