EADI Publishes its Annual Report
The Annual Report for 2020 shows that EADI have been anything but idle over the last year, despite the constraints posed by the pandemic: with more than 20 public (virtual) events, a publication on the research-practice nexus, 33 blog posts, the accreditation of a master's programme in Global Development Studies, two statements, the engagement in two projects and many working group activities the publication of the report marks an opportunity to look back on a challenging and busy year.
From the EADI Blog
The EU Conflict Minerals Regulation – a trial run for responsible sourcing of raw materials? "On 1 January 2021 the EU Conflict Minerals Regulation entered into force. From now on, companies importing certain minerals into the EU must ensure that their sourcing practices do not contribute to conflict and human rights abuses. The regulation therefore introduces for the first time mandatory human rights due diligence for companies in the EU. In its current version, the scope of the regulation is extremely limited. Nevertheless, its implementation can provide important lessons for the upcoming comprehensive EU due diligence legislation.", writes Karin Küblböck from the Austrian Foundation for Development Research. Read more.
Event:  Watch the #Solidarity2021 Plenaries Online!
In case you weren't able to attend EADI's recent #Solidarity2021 conference, it's worth watching the recordings of the plenary sessions.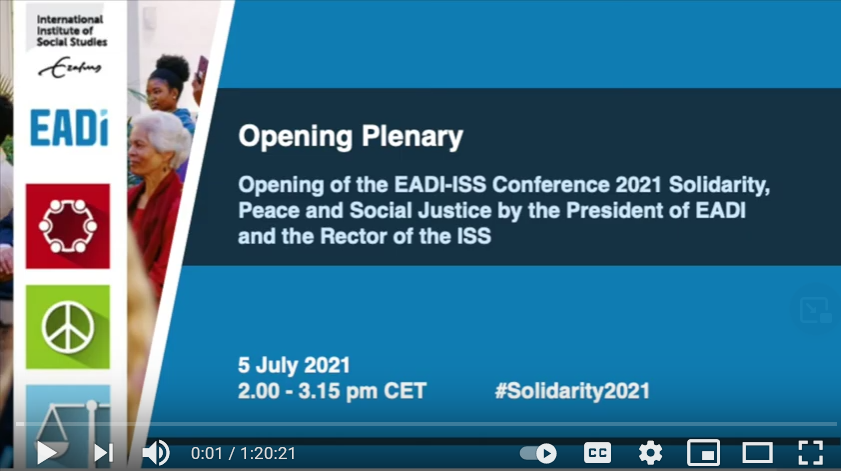 Highlight: Beyond Climate Neutrality
The German Development Institute, Deutsches Institut für Entwicklungspolitik (DIE) has also contributed to a policy paper by the German Advisory Council on Global Change which recommends making national long-term strategies a key topic at the Glasgow climate conference in order to provide orientation for current climate policy. Up to now, countries have only been obliged to short-term 'nationally determined contributions' (NDCs) to climate-change mitigation. These need to become far more ambitious andalso the climate crisis and the crises caused by the COVID-19 pandemic must be tackled together. Read more